"Women Making Books," a new exhibition in the First Floor Gallery of the University of Virginia's Albert and Shirley Small Special Collections Library, opens with Phillis Wheatley's "Poems on Various Subjects, Religious and Moral" (1773), the first published book of poetry by an African American. The book's frontispiece engraving of Wheatley (who was enslaved by a Boston family) sitting at a desk with a quill in hand is likely well known to most English majors; it is believed to be the first portrait in American history of a woman writing.
Annyston Pennington, a UVA English doctoral student who curated "Women Making Books," said that the Wheatley volume was one of the first objects chosen for inclusion in the exhibition. But as singular and powerful as "Poems on Various Subjects" is, Pennington was struck by the fact that within the book, Wheatley's poems are prefaced with the words of her enslavers. "What would it look like if Wheatley had had control over every aspect of this book with her name attached?" asked Pennington. "What does it look like for a woman to be involved in the printing and the letter setting, in the binding and in experimenting with the book form?"
"Women Making Books" dives into this question, exploring women's contributions to English and North American bookmaking from the mid-18th to the 21st centuries. While some of the exhibition's objects are authored by luminaries like Wheatley, Virginia Woolf, and Louisa May Alcott, many of the featured works — private scrapbooks, decorative books of woven hair and pressed flowers, and zines — are by unknown or little-known creators. "We wanted to show how women's domestic labor, crafting, and private practice made contact with the book form and even served as a precursor to zines, which were historically made to be cheap and easily accessible, and often used to convey countercultural messages," said Pennington, who works as a curatorial assistant in Special Collections.
The exhibition, which opened earlier this month, runs through June 10, in conjunction with the longstanding British Women Writers Conference, which this year will be hosted by the UVA English Department in late May. The theme of this year's conference is "Liberties."
"We hope to tell different stories of female agency when it comes to bookmaking," said Andy Stauffer, a UVA professor of English and co-curator of the exhibition. "We were drawn to objects that still look like books, but have been productively reimagined, recreated, scrambled, or personalized by women of all different backgrounds," said Stauffer, who is known for his "Book Traces" project, which catalogs and preserves unique copies of 19th-century books and investigates marginalia, inscriptions, and other historical data within them. "This is a visually beautiful and interesting show; it's full of unexpected, handmade items that use the format of the book and mess with it in creative ways."
The exhibition, which contains 23 items, is organized chronologically, starting with Wheatley's volume of poetry and ending with a 2021 work by artist and UVA alumna Golnar Adili that Pennington says "pushes the boundaries of the book." Adili's text, titled "She Feels Your Absence Deeply," is printed on the sides of wooden cubes, reminiscent of children's alphabet blocks, reminding the viewer that a story can shift, evolve, and be interpreted in many ways.
Take a look below at several objects from the exhibition (with captions derived from the exhibition text), on display through June 10 in the First Floor Gallery of the Small Special Collections Library.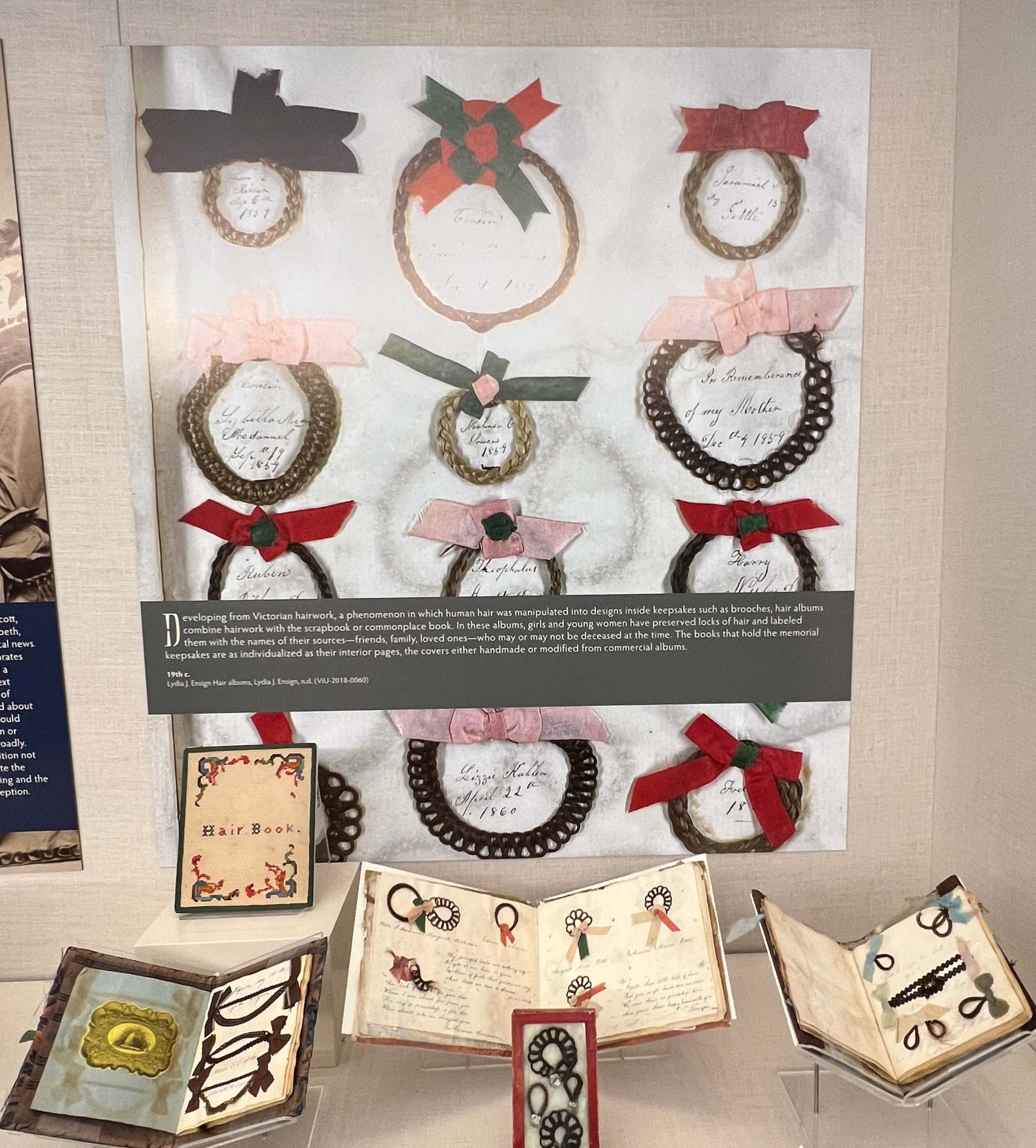 Developing from Victorian hairwork, a phenomenon in which human hair was manipulated into designs inside keepsakes such as brooches, hair albums combine hairwork with the scrapbook. The Lydia J. Ensign hair albums contain 159 locks of hair; many bits are adorned with metallic pins or plaited into designs and labeled with the names of their sources — usually friends or family.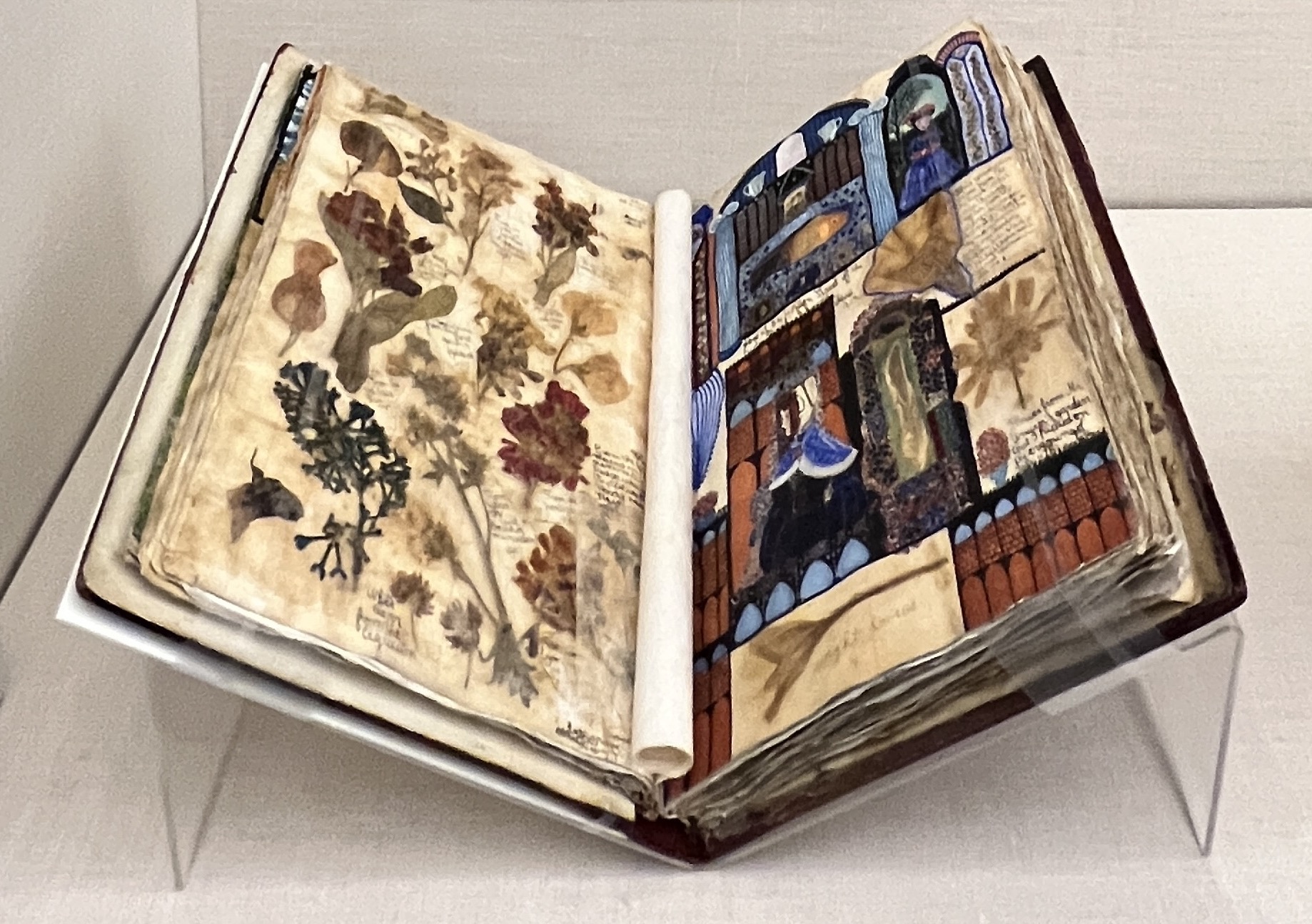 Created by an unknown artist, this "Folk Art Herbarium" album offers a multimedia excursion through the garden — and mind — of a woman in early 20th-century England. Pressed flowers with captions are arranged alongside highly detailed illustrations.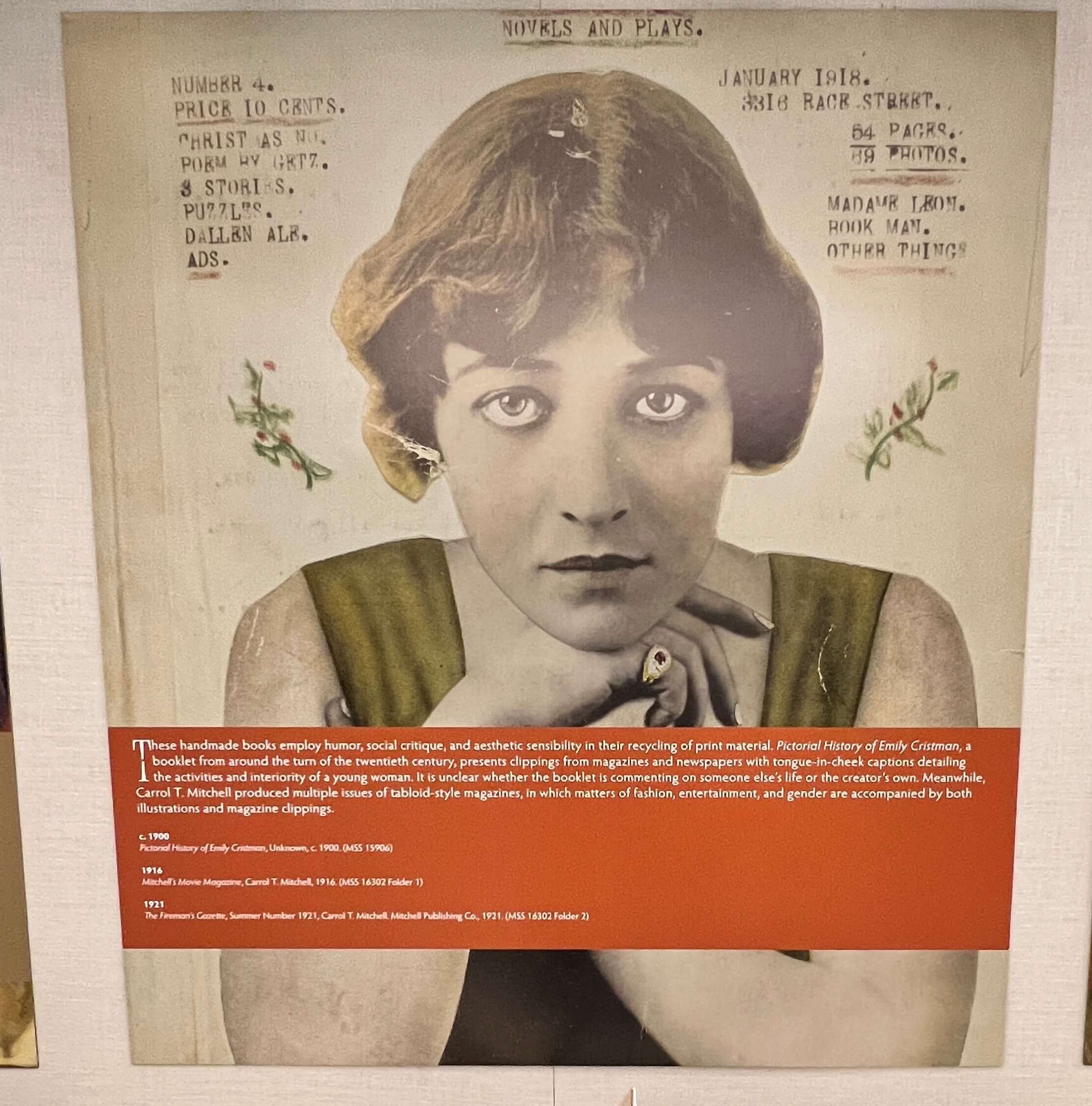 Carrol T. Mitchell produced multiple issues of tabloid-style magazines, such as this one from 1916, in which matters of fashion, entertainment, and gender are accompanied by both illustrations and magazine clippings.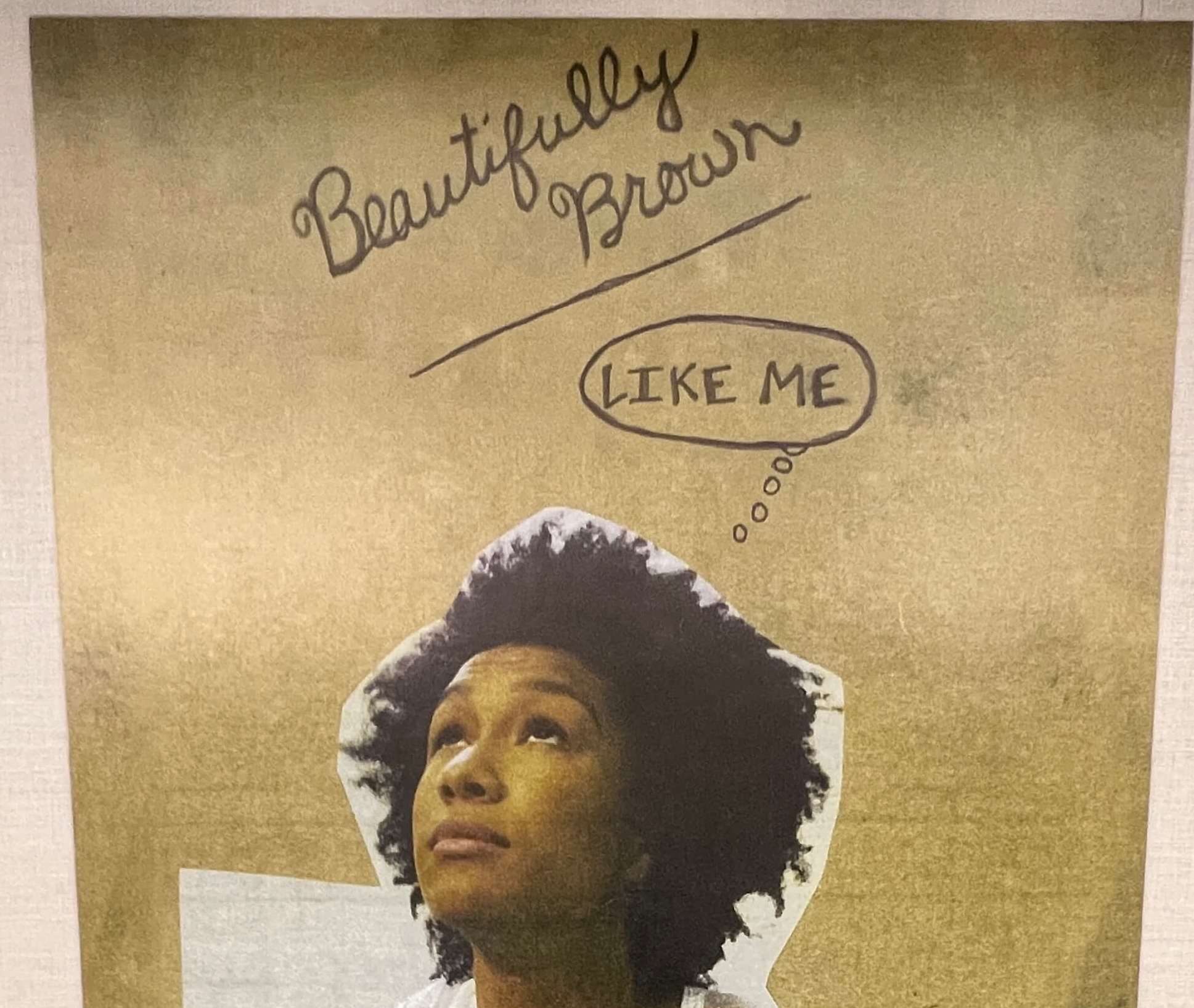 Each element of "Beautifully Brown Like Me," a 2017 zine by artist kuwa jasiri Indomela, signals that it is meant to be shared and to spark conversation about anti-Blackness in American art communities.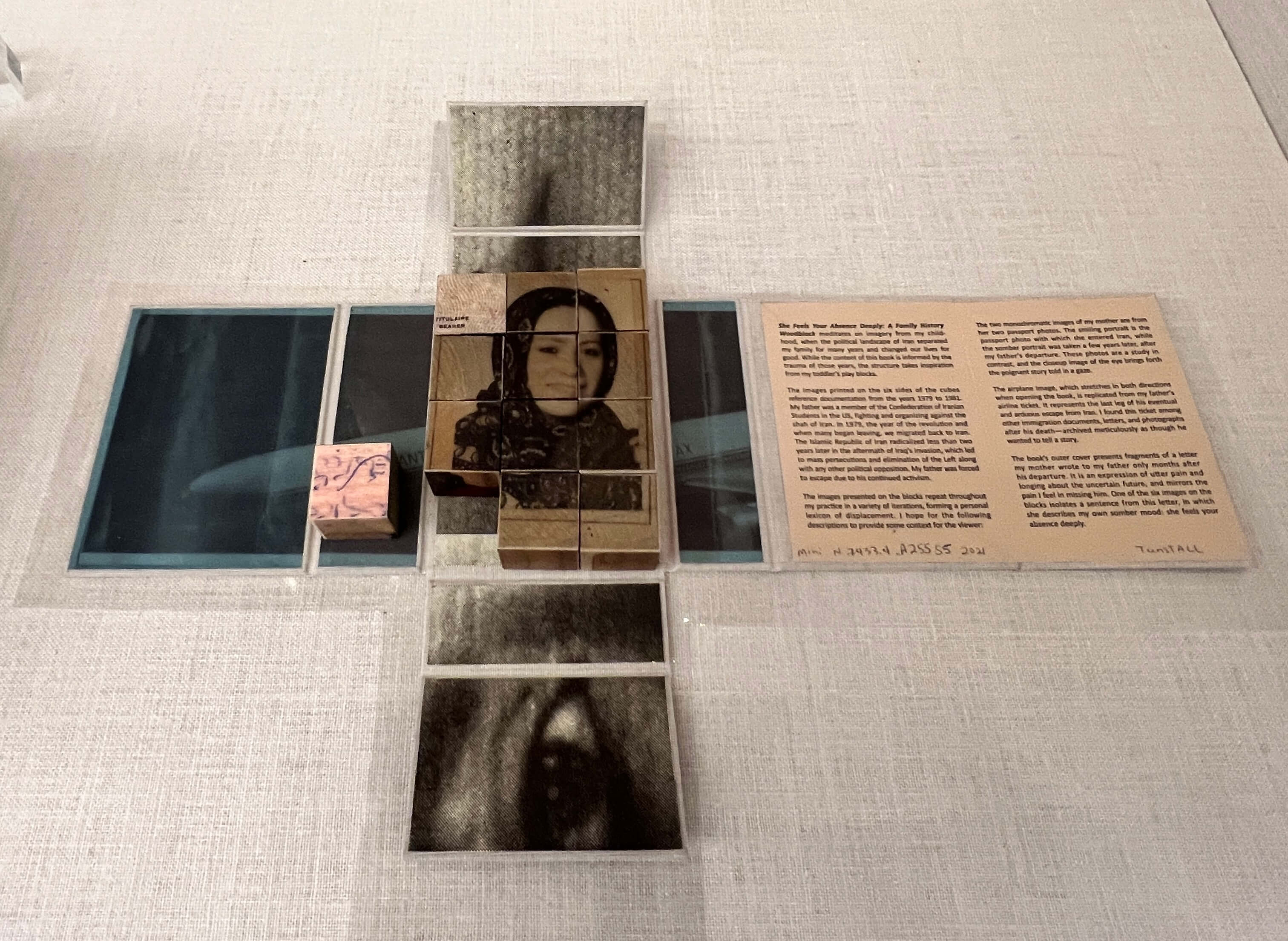 Artist and UVA alumna Golnar Adili challenges the book form completely with her work "She Feels Your Absence Deeply." The text is printed on the sides of wooden cubes, which can be arranged to show different images.