In honor of Native American Heritage Month, UVA Library recommends the following resources for insight into American Indian culture and history. The books and journals mentioned explore the wide variety of American Indigenous peoples and their contributions to what is now called the United States.
Thanks to Librarian for Collections Management and Video Resources Leigh Rockey, Librarian for History and Religious Studies Keith Weimer, and Reference Librarian Grace Hale for the recommendations below.
From page one, "Winter Counts" by David Heska Wanbli Weiden drives hard into the genre of crime fiction while also commenting on the metanarrative of American identity. The author, a member of Sicangu Lakota Oyate, has crafted a gritty, vigorous story that can be consumed in one sitting — it's that compelling. The action centers on Virgil, the hard man who takes on the messy stuff that nobody else wants to do, as he follows a lead from Rosebud Reservation in South Dakota to Denver. Please note that this book contains descriptions of violence, references to sexual attacks, the death of a child, and drug use. –Leigh Rockey
Post-Civil War/20th century white society's fixation on a clear race-based divide created a complex reality for Native peoples, especially in Virginia, where the 1924 Racial Integrity Act included the infamous Pocahontas Exception. How did Indian communities fit together with whites' construction of Black-white separateness? In "Being Indigenous in Jim Crow Virginia," Laura J. Feller examines this question and more in her investigation of the extraordinary intersectional identities of tidewater Virginia's American Indians. UVA Library's own Regina Rush and her colleagues at the Albert and Shirley Small Special Collections Library helped the author with research. –Leigh Rockey
"Killers of the Flower Moon" by David Grann, recently adapted as a film directed by Martin Scorsese, chronicles the murders of more than 60 Osage tribespeople between 1918 and 1931. As we now know, white Oklahomans plotted the killings of tribespeople (including their own spouses and children) to acquire headrights to oil. Even great wealth and the fact "that numerous Osage had skillfully invested their money" were insufficient to protect them from systematic predation in a society dominated by unsympathetic whites. Media attention did spark enough national outrage that the FBI investigated and, with difficulty, brought some of the perpetrators to justice. Despite the injustices, Osage tribal integrity and culture have proven resilient. –Keith Weimer
Yale historian and member of the Te-Moak Tribe of Western Shoshone, Ned Blackhawk reexamines the ways Indigenous groups have informed, responded to, and "reconstituted" modern America history in "The Rediscovery of America." Beginning with pre-contact (pre-removal) maps and ending with analysis of the Termination Era (1953-1968) the book synthesizes both new and older scholarship into one volume, filling an ongoing critical need for historical and teaching works that contextualize the contributions of Native Americans beyond narrow Eurocentric conquest/settler narratives. –Grace Hale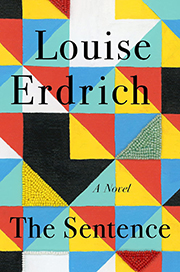 Louise Erdrich's 2021 pandemic novel "The Sentence" is ostensibly about a haunting at a Minneapolis bookstore. The protagonist, Tookie, a Twin City area Ojibwe woman, invites the reader into a signature Erdrich worldview that knits together cooking, tongue-in-cheek comedy, history, philosophy, metaphysics, and Indigenous identity and politics.
Part one of the book introduces the down-and-out Tookie in a tragi-comic body heist, but part two quickly moves in a metafictional direction when Tookie is released from jail and begins to build a life that nourishes her. Tookie now works in the Minneapolis bookstore, Birchbark Books, for a woman named "Louise"— a bookstore that Louise Erdrich owns in real life. Birchbark provides a backdrop to the literary haunting at the center of the story, although the haunting is quickly secondary to questions about community and belonging — ranging from the mundane (what to eat) to the tragic (George Floyd's murder), to the metaphysical (can one create a heaven for one's partner )— explored through the lens of Tookie's experiences and the bookstore cast. –Grace Hale
In addition: a few recent journal issues
Studies in American Indian Literatures
The latest issue contains essays about Native women authors trying to bust open the many myths surrounding Sacajawea and a reconsideration of "Winter in the Blood" by James Welch.
Tribal College Journal of American Indian Higher Education
The news this fall concerning tribal colleges and universities includes the announcement of the first accredited Ph.D. program at a tribal college in the United States, the Doctor of Philosophy in Diné Culture and Language Sustainability at Navajo Tech in the Navajo Nation in New Mexico.
NAIS: Journal of the Native American and Indigenous Studies Association
The current issue offers a new translation of a letter sent from Timucua Native chiefs to the Spanish government in Florida in 1688. The letter is one of the oldest-known published texts in a Native language.