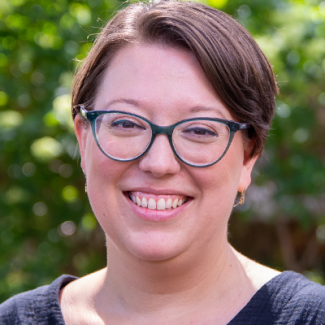 Science and Engineering Research Librarian
Schedule a Consultation
Job summary
Maggie Nunley is a Science and Engineering Librarian with a passion for empowering students through information literacy. With expertise in curriculum development and dynamic instructional delivery, Maggie creates engaging learning experiences tailored to diverse environments, including classroom sessions, online guides, and interactive tutorials.
As liaison to the Computer Science and Engineering & Society departments in the prestigious School of Engineering and Applied Sciences, Maggie specializes in tailoring her classes and programs specifically for engineering students. By understanding their unique academic needs and challenges, she develops innovative instructional materials and engaging workshops that equip students with the necessary tools to navigate complex information landscapes.
Maggie's commitment to excellence in teaching is reflected in her collaboration with faculty members to seamlessly integrate information literacy into the curriculum. She actively participates in instructional design initiatives, ensuring students are equipped with the latest research methods, effective search strategies, and ethical use of information resources. By integrating information, digital, and data literacy concepts and skills into the curriculum, she works to empower students with the necessary tools for academic success.
Beyond the classroom, Maggie is a trusted consultant and subject matter expert, providing valuable guidance to researchers and scholars. She actively engages with students, faculty, and the wider campus community. She offers personalized research consultations, assists with individual projects, and provides guidance on citation management to support students in their academic pursuits. Collaborating with faculty members both within and outside the Library, Maggie actively works support research in emerging and interdisciplinary fields that transcend traditional subject boundaries, fostering a culture of exploration and innovation.
With her approachable demeanor and infectious enthusiasm for knowledge, Maggie is a valuable ally for learners at all levels. She brings her expertise, dedication, and passion to empower students and contribute to their academic success.
Subject Specialties
Computer Science
Engineering & Society
My research guides